'Name That Tune' follows competing contestants whose musical knowledge gets tested as they go head-to-head against each other trying to identify songs, the tune of which is played by an on-stage band or orchestra. The music game show also offers cash and other prizes for the winning contestants, keeping the format of the series competitive and fruitful for the participants. With Tony Award winner and Emmy Award nominee Jane Krakowski as the host and Grammy Award-winning producer Randy Jackson as band leader, the show's contestants are surrounded by a live audience and numerous cameras in different areas of the stage.
Since the amount of songs available is limitless and not everyone has heard all the songs, there is one question that is likely to be on many of the viewers' minds — does 'Name That Tune' favor some contestants over others by providing them with easier, or rather more popular, tunes? Well, let's explore the same and get to the bottom of the truth!
Is Name That Tune Scripted?
Almost everything suggests that 'Name That Tune' is an unscripted, natural, and reality production, whether it comes to its reboot iteration or the previous ones that aired in the 1970s and 1980s. Solidifying this claim is the presence of a live audience that reacts to different contestants' accurate or inaccurate guesses in different and appropriate ways. As a matter of fact, during a January 2021 interview with TV Insider, the host Jane Krakowski opened up about how shooting the show with the live band and live audience "felt like being at a live concert every taping, every night. And the audiences really appreciated it and loved it."
Krakowski also had quite a few words to say about working with Randy Jackson, during the same conversation. She said, "Our chemistry was pretty instant once we got together. On set, I think the show evolved, and its comedy evolved from our initial and immediate friendship and chemistry together. Randy is really, really funny, and he appreciated my humor, and so that banter just naturally grew out of our friendship and relationship."
Having played some amazing characters throughout her career, Krakowski, in the same interview, shared how weirdly amazing it felt for her to just be herself on set, even while shooting. Explaining her experience, she stated, "…the greatest challenge for me was to feel comfortable enough to fully just show my sense of humor, my comedy, and my level of support and empathy to the contestants, which came naturally. What was weird for me was to go home after and be OK with everything that I shared because that's what I'm not used to. I'm used to being under the security blanket of it being a character, not me; I just hope I did a good enough job for the character or the writing that was given to me. I was being full on me and, hopefully, that will be OK in the end for the show."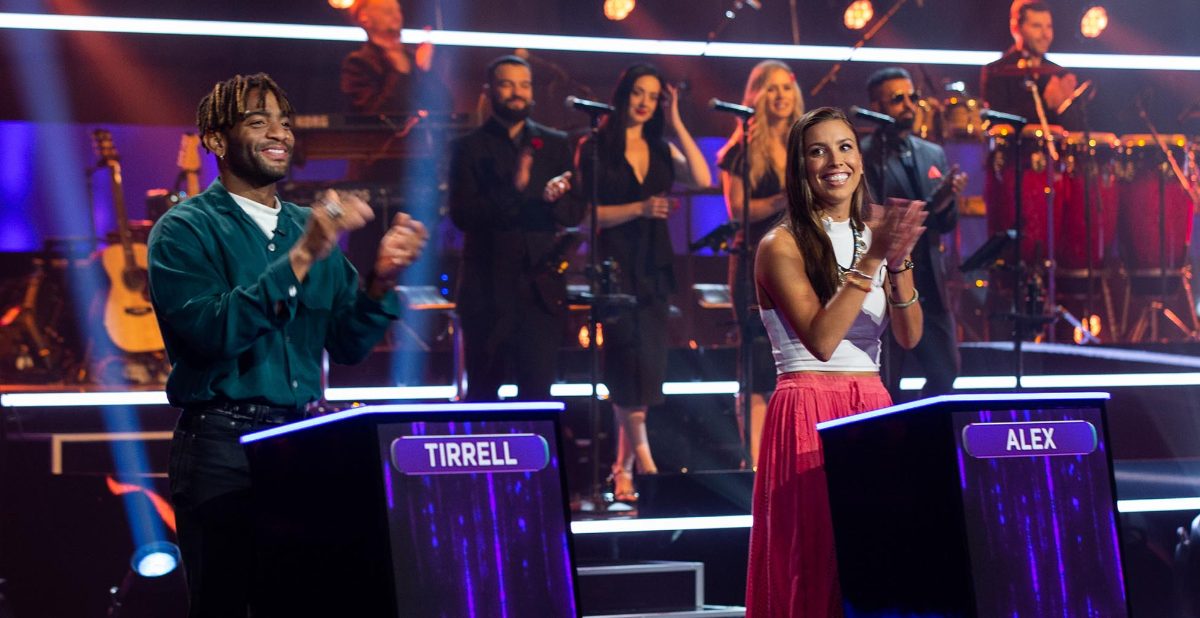 On the other side of the coin though, claims of the audience indulging in fake laughter and reactions have been made by people who were a part of the live audience in one of the episodes. Hence, while the audience we see is real, some of the reactions, mainly laughter, are not authentic. Not only that, as opposed to the above-mentioned claims of Krakowski, Naomi Vaughan commented in a Deadline article, "Went to a live recording of the American show Name That Tune. Very boring and very fake. Hosts don't appear to work well together either."
Moreover, in The Game Show Forum under the topic 'Rigged Game Shows From The 50's?,' uncamark replied, "…It is also believed that the original \"Name That Tune\" also engaged in some rigging–at the least, they scripted and staged games involving celebrities." So, it is not improbable that a few episodes involving some celebrities in the reboot might also be staged. Taking into account all the above-mentioned factors, it is likely that some producer interference is there for a few portions of the show because when it comes to celebrities, public standing matters quite a lot. All in all, while certain aspects regarding the audience are orchestrated, the core elements are believed to be authentic.
Read More: Where Is Name That Tune Filmed?